by Lee Courtney-Rowlands
(Brasil)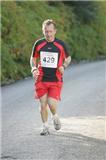 My first marathon for nearly 25 years, the Eden Project Marathon October 2010.
My number one hero is not only the smallest but probably the oldest still living. Precious McKenzie MBE born in 1936 is a South African-born weightlifter who has won Commonwealth titles representing both England and New Zealand and has won several World power lifting and Masters World power lifting titles.
The second youngest in a family of five his father was killed hunting crocodiles shortly after he was born. Precious was a weak child, suffering many serious illnesses during his childhood. His mother was unable to cope, and Precious and his younger sister, Gloria, were put in welfare 'care' of a number of foster parents, several of whom treated them cruelly. An ambition to be a circus performer ended because of South Africa's race laws and this led him to weight training and weightlifting. Although he was ranked the best weightlifter in his weight category in South Africa, he was barred in 1958 from representing his country at the Empire and Commonwealth Games that year. Because he was classified as coloured under the apartheid regime he was also excluded from the South African team for the 1960 Rome Olympiad. In 1963, he was told he could be included in the South African team for the 1964 Olympics, provided he was segregated from the white members of the team. He refused and left South Africa for Britain in 1964 with his wife and young family. British minister for sport, Denis Howell, fast-tracked his citizenship application to allow him to compete for England in the 1966 Commonwealth Games in Jamaica where he won gold.
He worked in a shoe factory in Northampton, applying later for citizenship. Due to his particular circumstances, this was not forthcoming, but then, on the eve of going to Canada, Dennis Howell (who was then the Minister of Sport and who wrote the foreword to "The Precious McKenzie Story"
Precious moved to Bristol where he completed a Physical Education degree.
McKenzie competed in three Empire/Commonwealth Games representing England, and at three Olympics (1968, 1972 and 1976) representing Britain.
In 1974 he featured on Thames Television's "This is your Life" show with Eamon Andrews. The same year Queen Elizabeth personally awarded him the MBE for his services to international weight lifting.
As a result of contacts made during the 1974 Commonwealth Games in Christchurch, New Zealand, he decided to settle in that country where, rather than operate as a factory worker, he was offered the opportunity to be a weight trainer in a gym. He settled in the North Island city of Auckland and won his fourth Commonwealth gold representing New Zealand at the age of 42. He has won more Olympic, Commonwealth and World medals in his sport than has perhaps any other sports person, competing in both the bantam and flyweight divisions.
He subsequently became a private consultant in the field of back injury prevention and the New Zealand Safety Council's Manual Handling Advisor, running courses in New Zealand, Australia, Singapore, the United Kingdom, and USA.
A film title ?The Precious One? is being made about his life directed by Roger Spottiswoode and with a cast including Kim Basinger, Nick Nolte, Kevin Hart, Tatyana Ali, Viola Davis, John Rhys-Davies, Arnold Vosloo I hope it comes out as planned next year.
In one sense, at 4ft 9ins, there isn't a lot of Precious McKenzie. But it's a case of the old saying ? there is more than meets the eye.
Irrepressible is the word to describe McKenzie. He has confronted adversity for much of his life and simply laughed in its face. He's been far, far too busy to indulge in self-pitying for him, every day is a challenge, each moment of life a sparkling cause for celebration.
What a shame that given the chance to come to England and later represent the country exemplary famously, landladies in the Midlands where many overseas workers were housed building some of the great motorways of England, used to put up signs in their windows if they had rooms to let. 'No blacks, dogs or Irish' what a disgrace.
In the end, the McKenzie family was befriended by a Pakistani who let them a couple of rooms. Memories, such memories they all seem a long time ago for the man who went on to represent Britain and then New Zealand at assorted Olympic and Commonwealth Games from 1966 to 1978. For Great Britain, he won gold medals at the 1966, 1970 and 1974 Commonwealth Games and then gold New Zealand at the 1978 Games. Four consecutive gold medal truly awesome.
Today, McKenzie is based in Auckland where he works as a back injury prevention consultant and the New Zealand Safety Council's Manual Handling Advisor. A weightlifter should know how to preserve his back and McKenzie has found his consultant services much valued wherever he goes.
But the greatest surprise of his life? His mind inevitably drifts back to South Africa, the land of his birth, and the feared, hated apartheid system that drove him away. "I was very surprised when it stopped; I didn't think I would see that happen in my lifetime?. "The trouble was, the world was supporting the apartheid system because of the gold in South Africa. I thought, no way would it end."
How sad that even with his excellent qualifications and glory at 3 commonwealth games he had to leave for a better life in N Zealand. A better job, better prospects, everything. He once said ?this is one of the most beautiful countries in the world. I enjoy my life and I am healthy. It is true what they say, your health is your wealth and the day I cannot work anymore, I will be near to the grave."
Sure, but there's work and work. McKenzie still travels the globe in his job, he regards it more of a crusade than a simple job for he asserts that the spine is the key to a healthy body. He calls it the motorway of the human body. So what is the general physical state of people he meets and helps around the globe? "Unfortunately, people's health is getting worse and worse. We have more and more mechanical things as aids: cars, trains, aeroplanes, computers etc. Children don't get to the park to play and man is getting weaker and weaker. It is all to do with the sedentary lifestyle. Computers in particular, do everything so man is getting lazier and lazier."
But not this lean, slim 74 year-old. Whilst he sees myriad numbers of his fellow citizens around the globe decline in a physical sense, McKenzie retains his shape and fitness with an iron-like grip on his mental processes. He continues to train regularly, nearly every day of the week. He is determined to maintain a healthy mind and body and insists physical exercise is the key to that. These are the lessons he imparts to his audiences, sometimes 200 people in a day.
Just before he retired at over 70 years of age he broke five world records for weight lifting in his class, at his age.
An inspiration to others? For sure. And now, as moves get underway to make a film of his extraordinary life story, Precious McKenzie confides to one remaining ambition, a deep, burning desire that remains unfulfilled to meet Nelson Mandela.
My idea of heaven would be to be there and sit in the middle of these two inspirational great men.
Medal record
Men's Weightlifting Commonwealth Games
Competitor for England
Gold 1966 Kingston Bantamweight
Gold 1970 Edinburgh Bantamweight
Gold 1974 Christchurch Flyweight
Competitor for New Zealand
Gold 1978 Edmonton Bantamweight
Olympic & Power Lifting Achievements
9 times British Weight Lifting Champion
10 times British Power Lifting Champion
5 times World Power Lifting Champion
8 World Masters Power Lifting Records
1999- 2002
4 consecutive Gold Medals at the Commonwealth Games
Represented Britain in 3 Olympic Games:
Mexico 1968, Munich 1972, Montreal 1976
Current World Masters Power Lifting Champion
Elected to the World Hall of Fame for Power Lifting – Texas, USA
Presented with an MBE by Queen Elizabeth II
Note,
It is after a suggestion last year from my kind brother that as I would be 50 I should try a new challenge and suggested an ultra-marathon and at first dismissing the idea I decided to look in to it, however was surprised and disappointed to find out how expensive and the waiting lists are 2 to 3 years ahead! So being concerned with helping to save the Amazon Rainforest decided to create my own and will next year attempt to run across the Amazon region 77 Marathons in less than 13 weeks running 6 full marathons a week approximately 2,000 miles.