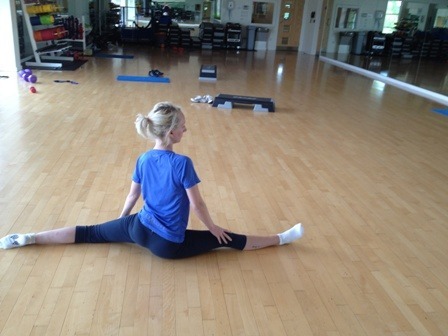 My daughter Natalie after six weeks of training
Suppose you wanted to do the front splits right down to the floor in perfect form and not only that but you wanted to do it in double quick time. Well hear is the good news, if you follow the advice of the (6 week program) you will almost certainly be able to do achieve this goal in, yes you guessed it! 6 weeks, regardless of whether you have stretched before, your present flexibility or your age. It is still possible to do the splits in 6 weeks if you are capable of passing one simple test; you are in good health and most importantly dedicated to the task at hand.
So first let's get the splits test out of the way and don't worry, it's so easy I have never known anybody fail it.
The test,
All you have to do is position yourself in a deep lunge with your front foot pointing straight a head, your front leg bent 90 degrees at the knee and the foot of your back leg should be pointing directly behind you with the dorsal surface or top part of the foot touching the ground and your shin flat on the floor.
If you can do this and I am going to assume you can, then you are capable of doing the front splits, you just didn't know it.
The only things that prevent you from dropping down into them effortlessly are muscular tension, perhaps some tightening of the hamstring, calf and iliopsoas muscles (inner hip muscles to you and me) oh! and did I mention fear, I should have done because believe it or not the fear of pain or injury plays a very big part in preventing you from doing the splits.
The reason is simply because as the saying goes (what you believe becomes your reality) or roughly translated, if you think you can do it your mind and body will work together to make it so. However, if you fear the exercise because you imagine it to be a painful experience that is likely to injure you, then your subconscious mind will stop you from going as far down as you are capable of.
So before you begin the six week program let me explain the techniques you will use to control the muscular tension, stretch the hamstring and hip muscles and conquer the fear of pain.
Let's look at muscular tension first,
All muscular tension means is as you go down in the splits position your muscles panic because the position is new territory to them and they think (oh I don't think this is a good idea, this is going to hurt or injure me) The result is as soon as the fear of pain kicks in or your muscles feel uncomfortable they will contract or tense up with all their might to stop you going any further.
You have to admire the little buggers because they are only trying to protect you but the fact is your own muscles deliberately stop you from doing what you want to do.
So what's the answer?
It is simple all you have to do is learn to control muscular tension so that you can delay and eventually stop your muscles from contracting.
How do you control muscular tension?
There are several methods and you will use all of them in the 6 weeks to splits plan.
One,
Waiting out the tension,
This one is great because it is so easy but works like magic. All you have to do is slide into your splits position and keep going until your muscles tense up and act like breaks to stop you going any further.
When this happens and it will unless you can already do the splits perfectly and I'm guessing you can't or you wouldn't be reading this article, then the solution is easy you simply stay in the same position and do nothing but relax and wait out the tension (by the way the muscular contraction that stops you going any further is know as the stretch reflex).
When I say relax I mean you use your imagination to control your thoughts and think about something pleasant such as walking on a beautiful beach or what ever thoughts get you in the right frame of mind.
Slow your breathing down by inhaling fully, holding the breath for a few seconds and then breathing out slowly whilst you think happy thoughts until your muscles relax.
Eventually what will happen is your muscles will get so fatigued trying to stay tensed whilst you are doing the opposite and focusing on relaxation that they will have no option but to give up and stop contracting. When they do, you slide a little bit further into the splits until they tense up again and then you've guessed it! You wait until they relax and stretch further. How easy is that! It's just a game of who's got the most patience you or your muscles?
The principal behind the stretch reflex,
The reason the stretch reflex is forced to stop contracting is simply because of fatigue, for example, you couldn't sprint as fast as you are capable of indefinitely because you would soon reach a point of total exhaustion and it's exactly the same factor involved with waiting out the tension.
So whether they like it or not your muscles can't contract indefinitely and at some point they become that knackered that they simply give in, all you do while you are waiting for this to happen is relaxxxxxxxx.
Two
Another way of stopping muscular tension is isometric stretching.
Isometric stretching serves two purposes; firstly it does as exactly the same as Waiting out the tension and forces the contracted muscles to relax and secondly, it builds up the strength of your muscles in the stretched position which is great because the stronger your hip muscles and hamstrings are in their maxim range the less likely they are to tense up in the first place.
Why?
Because your muscle say's (hey this isn't so bad, I am strong in this position and so I won't injure myself, there is no need to panic) the result is the stretch reflex doesn't kick in as quickly and your body allows you to stretch further.
How to do isometric stretching
It couldn't be easier all you have to do is the following,
You slide down into the splits position until the stretch reflex causes you to tense up. However, instead of relaxing as you do in waiting out the tension you do the complete opposite and deliberately contract your hip muscles and hamstrings even harder than they already feel (Yes you got it) just as the tension hits your body you slowly and deliberately increase it by contracting your whole body but paying particular attention to the muscles you want to stretch and tense them.
Make sure you breathe in fully as you start the contraction and then hold your breathe for a second or two as the tension builds.
Now as you breathe out let all the tension disappear from your body.
At this point it is a good idea to imagine you are a puppet on strings that has just suddenly been left to sink to the floor or any other imagery that leaves you feeling that your body is tension free and limp.
Your hip muscles and hamstrings will now feel looser so you take up the slack and increase your stretch an inch or two and then repeat the process of tensing the muscles holding the tension for a few seconds and then letting go until you have reached your current maximum range of movement.
Why does this work?
Because by exercising your muscles in this way you tier them out quicker than when you are waiting for them to relax and as you know tired muscles have no choice but to relax and when this happens you can stretch further.
But the best thing about isometric stretching is!
It is the best method of improving the strength of the hip muscles and hamstrings in their extreme range of motion,
So if you want to do the splits
Forget about exercises such as weights or running because they will not build the strength you need.
The reason why is because a muscle will only get stronger in the range of movement you put it in (or to simplify it) the best way to get the strength your hip muscles and hamstrings need to do the splits is you've guessed it, isometric contractions in the splits position.
Why do I need strength you might ask?
Because if you where being really good and concentrating earlier you will remember that the stronger your hip muscles and hamstrings are in the extreme position that the splits requires the less chance there is of the stretch reflex kicking in and contracting your muscles to act like breaks and stop you from going any further.
So the strength you build in this position is crucial for your success in the 6 weeks program and isometrics is the best way of building it.
Also keep in mind that flexibility and strength are a team – think of them as (good cop and bad cop) and if you ever want to do high kicks for example, you must build the strength that moving your leg high requires.
It's a strange but true fact that you might have the flexibility to do a high kick but not the strength needed to execute it. however, the reverse is not true if you have the strength to do a high kick you must also have the flexibility to do it as you could have only built the strength by being in that extreme position.
If I'm waffling let me make it easier to understand by saying – if you can do a proper front splits you will certainly have the flexibility to do high kicks but if you have not practiced isometric strength building you might not have the hip muscle or hamstring strength to do them.

When all else fails
At some point during the 6 weeks to front splits plan you will probably reach a point where you stop making any progress. The reason is simply because your body is a wonderful creation that soon gets used to what ever you make it do, whether it is good for it or not. So after a period of perhaps a couple of weeks your body might adapt to the training you are doing so well that you no longer seem to be getting any better.
So what's the answer?
You quit and put it down to experience (no only joking) what you do is bring out the big gun and by that I mean the grenade launcher of flexibility techniques
Take no prisoners – or forced relaxation as some people call it.
Basically at this stage of you 6 weeks to splits plan it's time to step up to the plate and be a man. We are basically talking about staking a stick to your muscles and forcing them to obey you (not literally taking a stick you understand) but it certainly feels like it because be warned, this is where it gets painful.
What you have to do in take no prisoners is very effective at getting the last few inches needed when you can nearly but not quite do the splits. The only drawback is the pain you have to endure which will take you to places you haven't been before. That said if you are focused on your goal and really want to achieve it in 6 weeks you will just have to grin and bare it and conquer your fear of pain.
How to do take no prisoners!
Slide down into the splits until as you know by now your muscles will tense up and stop you from going any further. When that happens apply about two thirds of the maximum contraction that you are capable of and keep tensing.
Make sure you breathe as you do this exercise but unlike relaxed stretching, take shallow breaths so that the tension you are applying doesn't ease up. When you can endure the pain no longer you let out a sigh as you breathe out and let your body sink whilst the pain disappears and your body relaxes.
Or if you're mentally strong enough to keep up the pressure when you're in agony for (anything from a few seconds to a few minutes) your muscles will collapse on their own anyway, simply from shear exhaustion and when that happens you can stretch a bit further.

Now let's talk about the mind and how the fear of pain can prevent you from stretching to your true potential.
First let me make it clear that the mind and body act as one and I can't stress how important it is that you understand this. Nothing will affect the success or failure of your stretching program more than your own mind.
In fact you are in complete control of your own destiny when it comes to improving your flexibility. So no excuses, no feeling sorry for your self and no doubts about the successes that you know will be yours.
If you doubt what I say, try and do your normal stretching routine just after you have had a big argument with somebody. I guarantee that you will not be able to stretch as well as you normally would.
Why?
Because like I said earlier the mind and the body are one and the same, so if you get your mind filled with tension it travels to your body making that tense as well.
However, the good news is you can use this phenomenon to your advantage. If you relax your mind just before you stretch with simple meditation techniques, listening to some music that calms you or something of that order, then you will put your mind and therefore your body in the right zone to stretch to your maximum.
Also let me say it loud and clear, some of the techniques needed to do the front splits in only 6 weeks are to say the least painful and that is why the fear of pain can prevent you from reaching your goal. So the answer is to use your mind to control the pain. If it sounds a bit new age believe me it isn't.
Buddhist monks have used the control they have over their minds to tolerate pain for thousands of years and if you have ever read about Thich Quang Duc the Buddhist monk who burnt him self alive in protest of the treatment of Buddhists in Vietnam you will know what I am talking about. The man had such control over his mind that he was able to ignore the pain of being burnt alive with out moving a muscle or making a sound.
So always relax your mind before you stretch and control your breathing and thoughts to master the fear of pain. Finally, keep in mind that belief is everything, if you really do believe you will be able to do the splits then you will.
However, having said all that always be sensible when you are doing your flexibility training because there is a big difference between the natural pain of stretching your muscles in a position they are not familiar with and the pain of injuring yourself. So learn to recognize the difference and if you are in any doubt about the cause of the pain stop stretching immediately and consult a Doctor.

Some final things to remember before you start the 6 weeks to front splits program
It is important that you build the strength as well as the flexibility needed to do the splits because then your muscles will feel safe in the new extreme position they find them selves in.
Every time you stretch, the longer you stay in the maximum position you are capable of the quicker your nervous system will adapt to it. Like every thing else in life you don't fear what you have done many times before without being hurt, so with flexibility the longer you maintain the optimum stretch the quicker your body thinks (been here, done it, got the T-shirt so there is no need to panic).
And finally,
Make sure you warm up with 10 minutes of cardio such as slow jogging, using a stationary bike or shadow boxing before you begin every single flexibility training routine.

Why?
For several reasons, the most important being cold muscles don't stretch very well so at best you won't be able to reach your maximum potential stretch and at worst there is a good chance you will injure yourself.
Also the physical effects of warming up such as increasing your heart rate and blood flow to your muscles prepares you for maximum flexibility far quicker than not warming up, and lets not forget that warming up starts to prepare your mind for what is to come and never underestimate the influence the mind has over the body.
So always warm up and if you haven't got time to, don't stretch until you have.
Also
At the same time make sure you always cool down after your flexibility training. If stretching is the only exercise you are doing at that particular time then you should not get to hot or exhausted but I have found that walking for five minutes after finishing all your stretches helps tremendously.
Ok now you understand the techniques of the six week to front split plan and how they work it's now time to begin what you have been waiting for the training.
If you have already tried the front splits test described earlier and have achieved it as I'm sure you did, then congratulate your self because you now know that there is no reason that you can't achieve the front splits, so let's get on with the exercises needed to do so.

Week one
After you have warmed up properly do the six following exercises in the order they appear.
One,
The Toe Touch
I'm sure you already know this flexibility exercise but what you might not know is most people perform it incorrectly.
The way to do it is to slowly bend forward at the hips keeping your knees locked, your head looking down at the floor and as soon as you feel your hamstrings tighten take a deep breath and tense your legs and buttocks for a couple of seconds then let your body drop further down as you breathe out and relax the tension.
Now take a couple of seconds to let your body recover and then repeat the process of reaching the point where your hamstrings tighten stopping in that position and breathing in, tensing the legs and buttocks for a few seconds and then relaxing as you breath out.
Do no more than sets 3 sets of tightening and then releasing and make sure you don't try to hard and injure yourself. You should feel a slight tightening of the hamstring and no more.
Two,
The Supine Hamstring Stretch which sounds awfully painful but is actually quit pleasant because you are lying down when you perform the exercise and lying down always helps your body feel relaxed.
To do the exercise, simply lie down with your back flat on the floor and both knees bent then straighten out your right leg, use both of your hands to grab a hold of the leg at the ankle and then keeping your hips pressed against the floor gently pull the leg towards your head until you feel some tension in the hamstring.
When this happens simply stay in the same position breathing deep and slow until the muscles stop contracting and relax and when that happens you can stretch the leg a couple of inches more towards your head
Do 3 sets of reaching your limit, waiting for the muscles to relax and then stretching them a bit further on each leg and remember to take it easy in your first week of stretching.
Three,
The next exercise is belief it or not the deep lunge that you did for the splits test. The only difference is this time you should try to hold the position for as long as you can but no more than 30 seconds.
As you are in the deep lunge make a point of contracting and then immediately relaxing the hip muscles as this a great way of learning to control muscular tension.
During the exercise make sure you keep your back straight and look straight ahead at all times. Again you should feel a slight tightening of the hip muscles but no more. If you are in pain then you are either doing the exercise wrong or are stretching to far so ease of and if the pain continues stop immediately and read again the correct way to perform the exercise.
Four,
The next one is a Karate stance which might seem a bit strange for a splits program but when you think about it logically there is a reason that Karate masters are so flexible and the stances they use has a lot to do with it.
So to perform this karate stance, have the front foot pointing at a 45 degree angle, bend the front knee at 90 degrees and slide your other leg backwards with your rear foot pointing to the side until you reach a point that is comfortable but creates slight tension in the hip region.
It is important to make sure you keep your back leg straight and do not allow it to bend at the knee. You must also keep your upper body straight so don't lean either forwards or backwards.
Stay in this stance as long as you can but for no more than 30 seconds at this stage and remember to take slow deep breaths as you hold the stretch. Not only does this stance help with your flexibility but it will also start to build your hip muscle and leg strength which (as we mentioned before) is important to do the splits in six weeks. It goes without saying that once you have finished the first stance you need to swap over and do the same with the other leg out in front.
Five
The Standing quadriceps Stretch is a very easy stretch to perform but a great one because the quadriceps of the front leg are the first muscles to contract in the splits position and stop you going as far in the stretch as you are capable of, therefore the more flexibility and control you have over them the better.
To do this stretch stand upright and hold on to the wall or a chair for balance, then grab the foot of your left leg bend it at the knee and pull the heel towards your buttock. If you can place your heel on your buttock then that's great just hold the position for up to 30 seconds without straining.
If you aren't that flexible yet than just pull the heel back until you reach the point of mild tension and hold for (you guessed it 30 seconds without straining).
It goes without saying that you have to perform the exercise on both legs and please remember to take deep slow breaths as you hold the stretch.
Six The last of the six exercises you must do each day is of course the front splits because the only ay your body learns is by practicing, so the splits every day is what is required.
There are two ways of doing them you can either have the foot and knee of the back leg facing the floor or you can have the foot and knee pointing to the side and it is the second way that you should do them.
Why?
For three reasons, one being that if you choose the first method you place the back leg in a position were it automatically wants to bend at the knee and if your back leg is bent you can not do a proper full splits. This habit can be overcome through training but it is easier and quicker to adopt the foot to the side technique.
The second reason is simply that your back leg slides a lot easier with the foot pointing sideways than it does with the foot pointing down towards the floor as the toes tend to dig in to the ground and make it harder to slide.
And
The third reason is that when it is time to start practicing isometrics whilst in the splits position you will find it a lot easier to maintain your balance with the back foot pointing towards the side.
How to practice your splits for week one
Unless you are very flexible and can already get so low down in the splits that you can place your hands on the floor I recommend that you place a chair on each side of you to hold on too.
Not only does this make the exercise a lot safer but because you can support the weight of your body with your hands it makes the (waiting out the tension, relaxed stretching) a lot easier.
So once you have placed the chairs on each side of you, put one hand on each chair to take the weight of your body. Now slide your front and back legs away from each other at the same time.
Your front leg will remain straight as it slides but your back leg will normally begin to bend at the knee involuntary as you get nearer to your maximum splits position. It is important that you don't let this happen because it becomes a habit and like I said earlier if your back leg is bent you simply cannot do full front splits. Therefore, start as you mean to go on and concentrate on keeping both legs straight, even if it means you cannot go down as far at the moment it will pay dividends in the end.
Once you have reached the point were you feel the tension and your muscles are starting to contract just stay in that position until the muscles relax and then gently sink a little lower. Keep doing the same routine of holding the position until it relaxes and then going a bit lower for as long as possible but again no longer than 30 seconds.
You can also focus your mind on relaxing the leg and hip muscles if you deliberately twitch them by contracting and then relaxing them (Imagine switching a light switch on and off)

The Next Day
After your first day of flexibility training you will feel very sore in the leg and hip areas if you are not used to stretching. Don't worry about this, it is perfectly normal but make sure it does not prevent you from stretching just because your muscles feel a bit tight.
Remember your body will soon get used to it and keep in mind that although you might feel sore once you have warmed up the soreness will almost disappear whilst you train.
For the first week just do the exercises described above every day and do them in the same order whilst sticking with the same number of sets and time limits.
Week Two,
Once you reach week two you should have developed the habit of stretching every day and the technique of each exercise, the proper way to breathe and your ability to relax when necessary should also have improved dramatically.
So it is know time to up the tempo of your training a little bit and the best way to do this is to start practicing isometric contractions in some of your stretches.
So here is how to train in week two
The Toe Touch
For the Toe Touch the good news is that for week two you only have to do the same as you have already been doing in week one. There is no need to change anything just stick with the 3 sets on this exercise and you will be surprised at just how quick your hamstrings will stretch to allow you to place both hands flat on the floor whilst keeping your legs straight.
By the way, once you can do this there is no need to go any further and start doing things such as standing on books etc because the ability to put your hands on the floor with your legs locked is all the flexibility you will need to have in this exercise to do the splits.
The Supine Hamstring Stretch
With the supine hamstring stretch you can start your first isometric stretch. Do the exercise exactly as before except when the muscles contract and you feel you can't go any further, instead of waiting out the tension as you did in week one try to push the leg back down to the floor using your hands as the resistance which stops this happening.
Keep pressing against your arms for a few seconds and then relax and you will find that your leg will now move a couple of inches further towards your head. Repeat the isometric push against the resistance of your arms 3 times and each time stretch the leg a couple of inches further when you relax.
Three
The Deep Lunge
The only change you make in this exercise is instead of simply twitching the hip muscles so they tense and then relax instantly like you did in week one. You should now use isometric contractions and squeeze all the muscles that feel tense for several seconds before relaxing. You should find that after every isometric contraction your muscles will relax so much that you are able to push the rear leg back whilst still maintaining a 90 degree angle at the front leg knee.
Four
The Karate Stance
Again use isometric contraction and you should find that after each few seconds of deliberate tension your rear leg will go back a bit further and your hips sink lower while still maintaining good form. (You will be surprised at just how low your hips get to the floor after only a few weeks training)
Five
The Standing quadriceps Stretch
With this exercise if you have managed to place the heel of your leg on your buttocks then all you have to do is tense the muscles for a few second three or four times during the 30 seconds.
If you cannot place your heel on your buttocks then it's time to start using isometrics again. So all you do is take the leg as far towards your buttocks as you can and then try to do the reverse by pushing your leg back down to the floor but using your hands as the resistance that stops it moving. It goes with out saying that you should do this for only a few seconds at a time and increase the movement forward each time you relax.
And six
The front splits
You guised it it's isometrics again, when you get to the point were you can't go any further you tense the muscles by trying to bring your front and back legs together.
Imagine that you are trying to stand up from that position. Obviously you won't be able to but the hip muscles and hamstrings will contract even more than they already are and when you relax you should be able to slide down a little bit further. Again just do this technique 3 times during the 30 seconds duration of the splits exercise and don't forget to alternate your legs.
That's it, just do the exercises as described every day in week two and you should notice increased flexibility, not necessarily every day but you should certainly find that your stretches improve every two or three days.

Week Three
Week three is an easy one, all you have to do is exactly the same as in week two and let your body get accustomed to the demands you are putting on it so that it gets used to the idea of being able to stretch a little bit further on a regular basis.
Week Four
Perhaps the most difficult week of the program because many people feel their progress is stagnating. It isn't, it just feels like it is because when your body gets used to doing something it stops having the same effect. An example would be people who start weight training and make dramatic progress for a few months and then reach a sticking point, again it's just because their body has got used to the demands placed upon it.
So what do you do?
Yes! Its time for Take No Prisoners
So for week four, do all the stretches in the same way as in week three remembering to do the isometric contractions when necessary the only difference is you will use take no prisoners when you are doing the front splits.
Why just for the front splits?
Because this the most important stretch and take no prisoners is very painful because unlike isometrics you can apply the pressure for as long as you can endure it, or until your muscles collapse into submission which ever comes first.
Therefore, by limiting the technique to just the splits you limit the pain you have to endure, also the splits lends itself nicely to this exercise because you can support your weight with your hands on chairs or the floor depending on your progress. You can also control the amount of tension you apply better than in some of the other exercises.
I won't repeat the technique required to do take no prisoners but would like to remind you to apply no more than two thirds of the pressure you are capable of to contract the hip muscles, hamstrings and quadriceps. Then simply grin and bare it until you can take no more or your body stops trying to fight you and gives up trying to tense the muscles. Either way as soon as you relax you should find that you can stretch further.
Because of the stress it puts you under both mentally and physically I recommend that when doing your splits exercises you use this technique twice a week, isometric stretching twice a week and waiting out the tension for the other three days of the week.

Week Five
By now you should be at the point were you can place your hands on the floor when you go as far down in the splits as you can. So the next technique you use is to start practicing lifting your hands off the floor so that there is nothing to support you when you are in the splits position except the strength of your legs.
I must stress straight away that you have to be very careful when doing this and you do so at your own risk but if you decide to start practicing it, here is the stages you should do it in. .
Slide down into the splits with your hands supporting you and then lift one finger of each hand off the floor. When you feel confident enough (in perhaps a couple of days) take two fingers of each hand of the floor and then three etc until after several days you are only supporting yourself with one finger from each hand.
At this stage, start practicing lifting the finger on one side of your body an inch of the floor hold for a few seconds and then try putting that one back down and lifting the other one until finally you are capable of holding a splits position with the strength of your legs only.
Why is this important?
Because this technique builds tremendous strength in the hip muscles and legs and as we know the stronger your hips and legs are in the maximum position the easier it is to stretch. The other benefit of doing this technique is the shear weight of your body helps to push you lower down because only your legs are supporting you and they cannot hold the position for very long.
If you doubt it, imagine being in the splits position and someone placing a hundred kilos of weights on your back. I guarantee your splits position will go lower the only problem is you would probably injure yourself so please don't try it.
When you are capable of holding your maximum splits position with just the strength of your hip muscles and legs you are so near to doing the full splits that you can taste it. However, only do this technique twice a week on the days you do your isometrics as the technique does put tremendous strain on your legs when you are not used to it.
Week six
Ok now comes the moment of truth, by now you should have developed the habit of stretching every day. You should be an expert in the techniques that you have practiced And mastered the breathing required for the different types of stretching. You should also have acquired the ability to relax and rid yourself of the fear of pain by using your mind to focus on whatever makes you feel calm and confident.
You are therefore well on the way to mastering the front splits and for the next week I want you to take time out every day to picture yourself in a perfect front splits position.
So at some point in the day find a nice quite place, close your eyes and as you slow your breathing down by taking deep breaths holding them for a couple of seconds and then breathing out slowly, imagine that you are in the perfect splits whilst feeling relaxed, calm and pain free.
The reason you do this is because as I said earlier what you perceive to be your reality is what your reality becomes so this technique confirms to your subconscious mind that you are capable of achieving your goal.
As well as this technique make sure that the surface you are using to practice the splits on is as easy to slide on as possible. Light carpet is fine, lino or Linoleum as it is called is even better. Just remember to slide down slowly using your chairs or hands for support until you are confident that you are in a secure position to balance on just your legs. Another good tip is to use a solid book to place your back foot on as you go into the splits as this helps tremendously with the sliding motion.
And finally the end of week six
On the very last day of your six week program pick a time of the day when you know you won't have any distractions for at least an hour and a half. Find a nice quiet place and spend at least 30 minutes sitting peacefully, breathing calmly and picturing yourself in the full splits position.
Then when you are ready do your warm up taking an extra five minutes to complete it, keep reminding yourself of all the hard work you have put in and why you deserve to have the flexibility that you want.
When the warm up is finished start the six exercises that you have been doing in your routine and with each one try to be a little bit more flexible than you have ever been in the past or if you prefer, hold the stretches just a little bit longer than you would normally do.
The reason behind this is simply because today is the big day and you want to be at your best. So if you warm up longer, stretch further or spend more time on all your other exercises than you would normally do then you are preparing your mind for successful splits.
Once you are ready to do the splits, position yourself and then close your eyes and take 10 deep breaths visualizing yourself sliding down easily in to the full front splits each time you exhale
Then on the count of 10 go for it and achieve your dream. This is what all the hard work has been leading up to and now you have done it. So once you have finished spend the rest of the day enjoying the moment and rewarding yourself with something nice like a food you wouldn't normally eat or a DVD you have wanted to buy or anything that You think you deserve.

What if you haven't achieved the full front splits?
Most people will have achieved the goal after following the six weeks plan. However, there are exceptions to every rule and depending on your age, the flexibility you had when you started and the way your body has adapted to the training there will be some people who haven't quite managed it yet.
That doesn't mean you are a failure in fact the opposite is true because you have shown you are capable of setting a goal, having a plan to reach that goal and persevering through to the end, so well done.
So if you have not achieved the splits yet, you must agree that you are now far more flexible than you were when you started and you must feel good about the dedication you have shown. The simple solution to achieving your goal is to keep doing what you have been doing for just a little while longer and success will soon be yours.
Good luck,
Keep in mind that to succeed you must stretch every day and remember that above all else perseverance is what winners are made of.

Read the exercise motivation guide to help with the splits

Find out more on flexibility training